Listing Optimization Package
Powerful Content to Attract Consumers
Are You Ready to Improve Your Amazon Product Listing?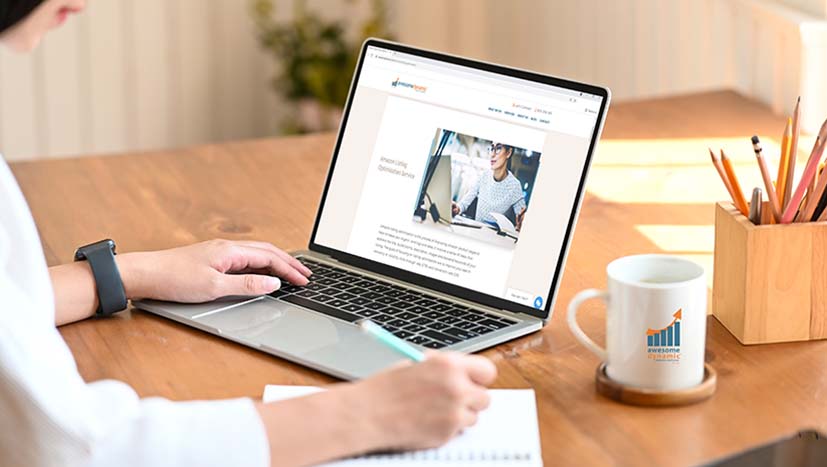 We know you need to be cautious with your budget. That's why we created the Amazon Listing Optimization Package.
This package is an essential first step to selling on Amazon. And, when you are ready to expand more, we'll be here for you. 
What's included:
Completed Listing for 1 Parent SKU (Up to 5 Child SKUs)
Data-Driven Keyword Research
Backend Search Terms
Competitor Analysis
Keyword-Rich Product Title
Consumer-Friendly Content: Bullet Points and Description
Image Recommendations*
FBA or FBM Listing Set-Up
Listing Support for the First 30 Days**
Expert Recommendations to Further Progress
Get started for $1,395.
Amazon account must be in good standing. Client must be the brand owner and have page control of the product(s) being listed. Client must be ungated in the selling category. 
*Image creation is not included in this package. **This covers issues that may arise if Amazon changes requirements that result in your listing being affected within the first 30 days of it being live. 
Get started with the Listing Optimization Package today!
"Great people to work with ... helped us gain good increases in sales and understand Amazon culture."
— John
"The Awesome Dynamic Team is just that, awesome! They've helped us evaluate our listings and improve where improvement was needed. They are professional and helpful, as well as extremely efficient."
— Carlyn
"Since we started working with Awesome Dynamics, they have been really helpful and helped us grow our business."
— Jessica
The Awesome Advantage for Your Business
We Take Away the Guesswork
Selling on a popular and crowded marketplace can be stressful. We know the ins and outs to setting up and selling successfully on Amazon.
You Gain a Team of Experts
Our team becomes your team. We've been around for a while too! For over 10 years we've honed our Amazon skills and have successfully helped businesses of all sizes. 
Reach Your Goals
With research, defined goals and a customized strategic plan, you'll be on your way to hitting goals and reaching your profit potential. 
Drive Sales
Appeal to customers with our proven optimization techniques. We excel at keyword research, writing compelling copy and creating powerful graphics.