Shopify Solutions for Online Retailers
Personalize & Optimize Your Store for Success | Schedule Your Free Consult Today
Reach New Revenue Goals with a Shopify Store
Your Personalized Shopify Store
We understand the pivotal role Shopify plays in shaping the success of your online store. With the support of our dedicated team, you can optimize your store to drive traffic and maximize profitability. Our Shopify experts provide innovative solutions with a customer-centric approach that streamlines your daily operations and fosters customer loyalty.
Awesome Dynamic is proud to be a Shopify partner. 

Grow Your Online Sales, Build Your Brand Reputation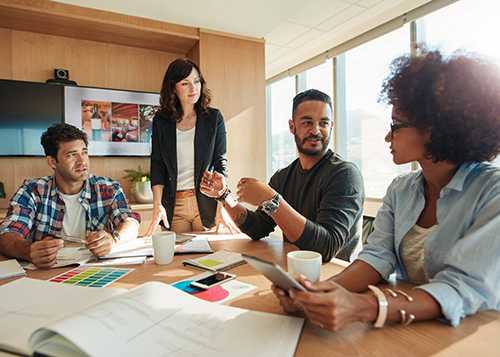 Who We Are
We are more than just a digital agency. Our team of ecommerce experts and Shopify aficionados are passionate about helping businesses thrive in the competitive online marketplace. 
Our Shopify ecommerce marketing firm is comprised of skilled and vetted professionals who understand the intricacies of Shopify. No false promises or cookie cutter advice here. With the goal of becoming experts in your products and brand, we provide concrete steps necessary to outperform your competitors.
Our Shopify Ecommerce Marketing Services
Shopify Online Store Setup and Customization
Create cutting-edge Shopify stores and edit existing storefronts for increased functionality.
Product Listing Optimization
Develop product listings that improve search relevancy, click-through rate, and conversion rate.
Design and Image Recommendations
Upgrade the look of your store and improve the user experience for increased customer satisfaction.
Competitor Analysis
Discover ways to outperform your competitors and showcase your company's unique value.
Payment Method Optimization
Set up and add payment methods to your Shopify online store to streamline the checkout process and drive sales.
Automated Email Customization
Increase email engagement, conversions, and revenue with our marketing automation strategies.
Image and Copy Creation
Improve performance with creative content that informs, engages, and builds brand credibility.
SEO and Digital Marketing
Propel your Shopify online store to the top of search engine results with tools that make your brand stand out.
Inventory Management/Guidance
Maintain optimal stock levels to meet customer demand and prevent delays and delivery issues.
Conversion Rate Optimization
Conduct A/B testing, implement user experience enhancements, and boost sales with persuasive CTAs.
Shopify App Store Optimization
Review and update your Shopify content to ensure it is optimized for mobile shoppers
Our Approach
The Shopify online shopping experience differs greatly from other platforms. Our revenue-focused Shopify experts work on your behalf to upgrade your brand and capitalize on valuable opportunities. It's our job to make yours easier. 
Our full-service Shopify ecommerce consulting firm creates personalized strategies based on your specific needs and objectives. We start with a comprehensive evaluation of your products and business model. After completing this assessment, you will receive a clear roadmap of the steps needed to improve your sales, ranking, and profit margins on Shopify.
For existing Shopify sellers, we review your overall account health

For new sellers, we create an account setup strategy

We pinpoint potential issues that require immediate attention 

Our team identifies areas of improvement and potential growth opportunities

We formulate Shopify store optimization strategies to improve performance

We provide a clear outline of the next steps to increase revenue
"The Awesome Dynamic Team is just that, awesome! They've helped us evaluate our listings and improve where improvement was needed. They are professional and helpful, as well as extremely efficient."
— Carlyn
"Awesome Dynamic has done an excellent job for our Amazon presence. We had product available in the past, but never were able to truly get significant sales due to our lack of understanding in how Amazon operates. They have a great team and are always there and able to take us to the next level."
— Ryan
"I truly cannot say enough about how wonderful the team at AD are — I am so happy to have found them! This team really knows their stuff and they've made my life infinitely easier so that I can focus on new product development and building key account relationships."
— Lisa