March 23rd, 2023
If you're an Amazon seller, you know that it takes quite a bit of behind-the-scenes work to get a listing up and running. What seems simple and intuitive to shoppers often requires strategic planning. 
Whether your product line consists of 10 products or 100, allowing buyers to preview their options without having to scroll through crowded search results is a great way to improve their shopping experience.
However, adding Amazon product variations is about more than just convenience. Ultimately, upgrading your listings with variations can have real results. What exactly is a product variation and how can it affect your performance on Amazon? Let's take a look at the basics.
What Is a Product Variation on Amazon?
On Amazon, variations are the different product options available for one listing. The attributes of each parent product may be broken down in terms of size, color, pattern, flavor, or any other discerning characteristic. The Amazon variation types may vary, but the primary features of the product remain the same. 
Amazon variations provide convenience to customers who want to explore product sizes and styles within a single listing. They give shoppers a full range of similar products without having to conduct separate searches for each child product or subcategory. 
An example of a parent ASIN could be "Cashmere Sweater" while the child ASIN could be "Royal Blue, Small." The product variation theme is how these related products are distinguished. Multiple variation themes can be applied to a product to help customers to choose their size and color without searching through each individual option one by one. 
What Are the Benefits of Amazon Product Variations?
Creating a listing with a strong Amazon variation strategy certainly has its benefits. When shoppers can quickly find what they're looking for, it's much more likely that their search will result in a sale. But what exactly does a product variation accomplish?
Improve your conversions
Adding a listing variation instantly gives customers a full scope of the sizes, colors, patterns, and flavor options you carry without having to click in and out of multiple product listings. Just like every other aspect of listing optimization on Amazon, making the process simpler for shoppers is a surefire way to snag sales and improve conversions. 
Boost your child listing performance
Adding brand-new or less popular variations to a product listing that performs well makes these products easier to find. For example, if your black t-shirt is a top-seller, adding the low-performing striped and floral version may increase in performance if added to the same listing as a variation.
Enhance your sales and ranking
In a variation, each sale that has taken place on your parent-child listing will go towards the overall sales history and can help increase your organic search ranking as well as your overall Best Sellers Rank.
Flesh out your reviews
Just like your sales and ranking, each and every review you've received on your parent-child listing will appear under your parent ASIN. With 91% of shoppers reading online reviews, having a strong arsenal of customer feedback can help you stand out from the competition. 
---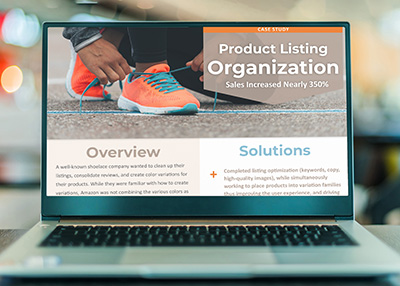 Organizing your listings to make the online shopper experience as easy and pleasant as possible is a sure way to garner more sales. Take it from our client who enlisted the help of the Awesome Dynamic team to clean up their listings, consolidate reviews, and create variations for their products. Sales grew nearly 350%, year over year. Read more.
---
How Do I Optimize My Amazon Product Listing with Variations?
To optimize your listing with Amazon product variations, first, check to make sure this option is available for your category. Some of the main categories that allow variations are:
Grocery

Health & Beauty

Clothing

Accessories & Shoes 

Pet Supplies 

Toys & Games

Sports & Outdoors
If you are eligible, determine the best way to organize your Amazon variation types. Do you want to combine sizes and colors? Fabric options and patterns? Keep in mind, your goal is to enhance and simplify the shopping experience for potential customers. If you're considering adding an item to your variation, ask yourself:
Are these items similar?

Are they different versions of the same product?
Can the different products share the same title and descriptions?
If the answer is yes, it's time to optimize!
How Do I Add a Variation on Amazon Seller Central?
There are two ways to add Amazon product variations:
Create a new Amazon variation listing in Seller Central:
Log into your Amazon Seller Central account and navigate to your dashboard. 

Hover over

Inventory

and then click

Add a Product

.

Click on

I'm adding a product not sold on Amazon

.

Browse or search for your category.

Fill out the Product Name, Brand, and Manufacture sections. 

Leave

Product ID

blank so you can add multiple Amazon product variations.

Click on the

Variations

tab and select your

Variation Theme

. This is where you can add colors, sizes, etc. Enter your variations and click on

Add Variations

.

Enter your product ID, product ID type, condition, price, and quantity.

Click

Save & Finish

.
Shortly after, your parent-child listing should be visible under Manage Inventory in your Seller Central account. This typically takes about 15 minutes. 
Create a new Amazon variation using an Inventory File:
With an inventory file, it can be easier to update, delete, or add to Amazon product variations as needed. To add variations:
Log into your Amazon Seller Central account and navigate to your dashboard. 

Hover over

Inventory

and then click on

Add Products via Upload

.

Enter your product, select your category, and click on

Generate Template

.

At the bottom of the spreadsheet select the

Template

tab.

Follow the instructions to fill out the file.
You can refer to the Example tab to see how you should enter your Amazon product variation information. Amazon provides some helpful tips that include:
Be sure to only enter an image URL for the product item, not the size, color, type, variation theme, or parent SKU. 

For the parent product, do not insert data such as weight, time-to-ship, price, etc, since the child product data already has this info. 

Enter the size, price, weight, etc., for your child ASINs separately since they will be different for each Amazon product variation. 
Combine two ASINs into one Amazon product variation 
To combine two or more similar ASINs together into one Amazon product variation family:
Download your category template with the

Product Classifier

or

Templates for Specific Categories

. See what variation themes are available under the

Valid Values

tab.

Create your parent and child SKUs in the inventory template.

On the parent item, enter values for required fields including

SKU

, leaving the

Parent SKU

column blank.

Enter a value in

Parentage and Variation Theme

.

Leave

Relationship Type

and all other non-required fields blank.

For each child item, enter values for all of the required fields.

Fill in the

Parent SKU

field - this value will be the same for all child items.

Enter your child variation in

Parentage

Enter variation in

Relationship Type

.

In the

Variation Theme

field, enter the same value that you entered for

Variation Theme

on the parent.

Review, check for errors, and upload the completed file.
How Do I View My Product Variations on the Amazon Search Page?
When a shopper searches for an item, they may stumble upon your listing. Regardless of the size, style, or color, the title, bullet, and description for this item will not change. From here, they can view the specific item they searched for or browse through the available child ASIN's on the listing. 
Adding Amazon product variations to your listings is a great way to improve the shopping experience for potential buyers. A well-executed Amazon variation strategy not only improves the look and feel of your listings but can also have a significant impact on your listing's performance. 
With an average of 66 thousand orders being placed on Amazon every hour, stack the odds in your favor with customer-friendly listings. From sales to reviews and beyond, opportunity awaits.
Looking to boost visibility, performance, and sales? Our team of professionals specializes in helping businesses put their best foot forward to attract more traffic and higher conversions. From listing optimization to content creation, our cutting-edge experts are here to help. Let's talk today. Schedule your free consultation by filling out our contact form or calling 800.238.1811.