February 21st, 2023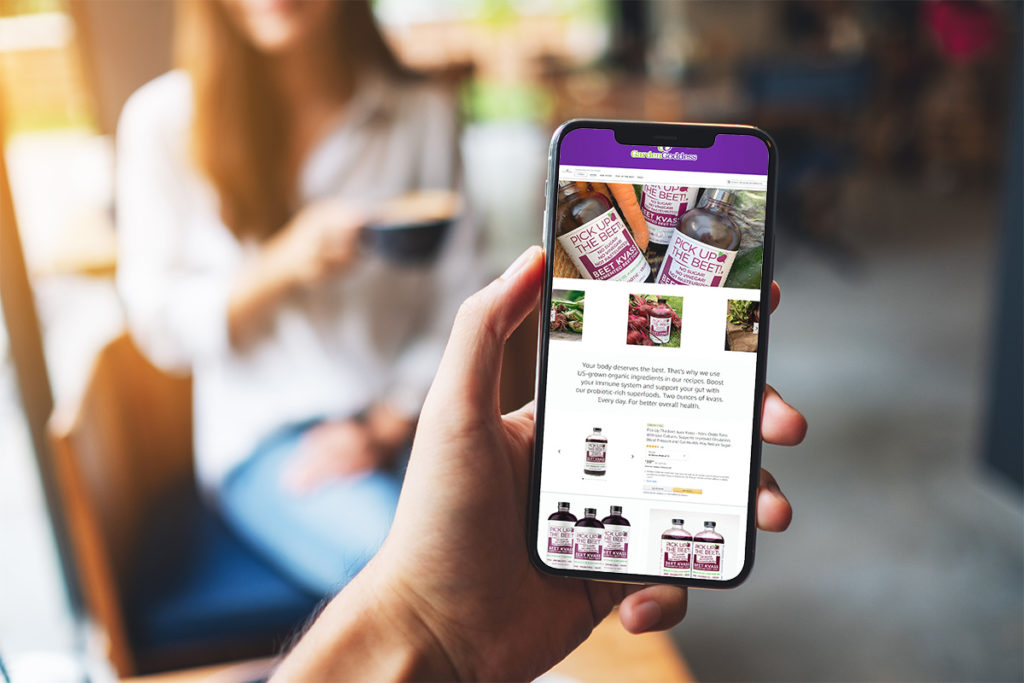 Selling on Amazon gives many brands an opportunity they never could've dreamt up in the age of malls and small-town storefronts. 
With a huge international clientele, convenient shipping options, and a plethora of tools that rope new customers in, success is there for the taking. The challenge lies in standing out and showing the world what your brand is all about through a screen.
If you're an ecommerce seller, you've likely heard the buzz about "building credibility." Developing a strong reputation is crucial for selling on Amazon. Shoppers search for customer reviews and informative, thoughtfully-crafted listings. 
Creating a Storefront is a great way to pack in all your most important information while adding a touch of personality to the shopping experience. 
What are the Benefits of Creating My Own Amazon Storefront Design?
Amazon Stores provide a great way to distinguish your brand and showcase who you are and what you do. When shoppers search for products on Amazon, they inevitably stumble across an overwhelming number of results. Adding your own unique flavor and creating a stunning virtual storefront can:
Entice shoppers with personalized creative content and well-written copy

Reinforce your brand identity and credibility

Showcase your entire catalog of products to interested customers

Organize your products and promotions

Improve the shopping and checkout experience

Boost conversions and sales
What is an Amazon Storefront Design?
The Amazon Store feature has a simple drag-and-drop interface that can help you showcase your brand and products to shoppers. On each customizable page, you can add content that represents your voice and mission. 
Each page of your Storefront design can have up to 20 sections. Sellers can add brand and lifestyle images, enticing text, and creative content that sets them apart from the competition. 
A homepage and header will automatically be added to your storefront design. Your header is where you can add your brand logo and a customizable background image. From there, your storefront designs can include:
Text tiles
Text tiles can include brief descriptions of your history, mission, and products. These tiles can link to another Store page or detail page. You can position your text left, right, center, or justified. Keep copy short, concise, and descriptive. You can even include some interesting facts about your brand, products, and history.

Image tiles
Your images should showcase your packaging, ingredients, or your product in action. Images can link to another Store page or product detail page. Make sure your images and branding are consistent with your product listings and reinforce all the most important facts and features of your products.



Images with text
Your image can link to another Store page or product detail page. You can customize the text size, alignment, and the colors and placement of the text overlay on the image. Be thoughtful with the layout of your text.



Shoppable images
Shoppable images allow you to link to a product detail page and features up to six products and includes info such as the product name, image, Prime badge, price, and star rating. These interactive tiles can include important information and allow shoppers to continue to purchase.



Products
Highlight a single product and show the price and Prime status. Products link to a product detail page. This is a great opportunity to highlight top-sellers.



For medium tiles, you can include a custom product title and description. This is where you can add your own unique flair and speak directly to potential customers. Incorporate interesting and engaging copy!

For full-width product tiles, you can show the info on the product detail page with a call to action (Add to Cart) or add a custom title and description.


Up to 4 background video tiles
Shoppers can click to play, pause, or view the video in full screen on desktop. On mobile devices, your videos automatically appear in full screen. A video file and a cover image are required for video tiles. Use videos that show your products in action, provide helpful tutorials, and tell shoppers who you are and what you do.
 


Product grid tile
Add four or more products in a full-width grid. Select from standard or tall. Products can be added by searching for keywords or ASINs, added manually by entering a list of up to 500 ASINs, or automatically using keywords, if your Store is associated with your brand in the catalog. Including a variety of products can help shoppers easily explore your entire catalog.



Gallery tile
Your gallery can show up to eight images in a full-width grid layout. The minimum image size is 1,500 × 750 pixels. This provides a comprehensive overview of your catalog and is a great way to get existing customers interested in the other products you sell. 



Featured deals tile
Amazon shoppers love a deal! These tiles show active promotions such as Best Deal, Deal of the Day, Limited Time Deal, and coupons.

If you select All Products, your store will show any active promotions for products in the catalog associated with your Store.

If you select A Curated Set of Products, you will be required to enter the ASINs of specific products you want to feature. These will appear in the tile if they are active and in stock. You are required to use child ASINs. Parent ASINs are not supported.


Recommended products tile
This tile shows products that are recommended to a shopper based on their unique shopping history. It displays five products at a time. To use this tile, your Store must be associated with your brand's products in the catalog. 
Who Can Create an Amazon Storefront?
You don't have to be at the top of your category to meet Amazon storefront requirements. Brand owners and vendors who are enrolled in the Amazon Brand Registry program and who sell their products on Amazon can create their own store.
Amazon DSP sellers are required to have an advertising account apart from their Amazon DSP account to create a storefront. 
To begin creating your own Amazon storefront design, you must have an active & registered trademark that is submitted to Amazon and approved. To enroll your brand, check out Amazon Brand Registry.
How Do I Create a Storefront Page on Amazon?
Sellers can set up their Amazon storefront design by navigating to the Products tab at advertising.amazon.com. 
Next, select Stores < Manage Stores < then Create Store. From here, you can create an Amazon storefront design from scratch or select from the following templates:
Marquee:

Show your brand story and product categories

Product Highlight:

Showcase a flagship product

Product Grid:

Display a large number of products in your catalog

Blank:

Start from scratch and add the tiles you want - no coding needed
Whether you select from a template or create your own layout, you can edit each tile and add additional pages. For each page you create, you will be required to add a page name and Page Meta Description. 
Your Meta Description gives a brief explanation of the information on a webpage and should include a call to action (CTA). It will be shown on a Search Engine Results Page (SERP). In this section, use an active voice and keep your copy around 155 characters.
Best Practices for Your Amazon Storefront Design
If you're going to create a custom storefront, make it count! With this extra real estate, you can have some fun, entice new shoppers, and get creative. Carefully design your storefront with your best visuals and descriptions. 
It's very important to consider how your storefront looks for both desktop and mobile shoppers, so be sure to review both with a discerning eye. Some best practices for your Amazon Store are:
Do not include contact details or unsubstantiated claims 

Do not include shipping or delivery information

Do not use special characters or exclamation points

Do not reference specific pricing 

Do not claim to diagnose, treat, prevent, or cure disease or addiction

Do not include product or lifestyle images in the Brand Logo
What Does a Storefront Cost?
There is no fee to set up your dedicated Amazon brand store. However, if you seek outside help for copy, layout, and creative services from an experienced consulting agency, then those fees will be something you should work into your budget. 
Interested in setting up your own Amazon Storefront? Our experts work with clients in a wide range of industries to boost sales, reduce your workload, and help you gain visibility on Amazon. Learn more by scheduling a free consultation with us today.