February 21st, 2022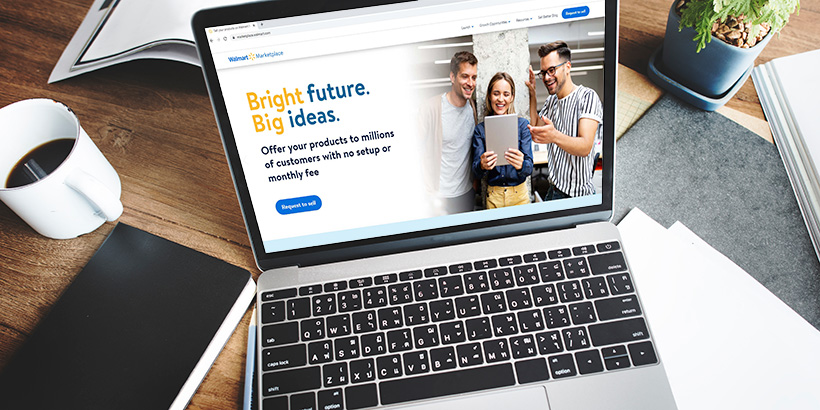 Walmart Marketplace listing optimization is an essential step in your business strategy as an ecommerce seller. Having a thorough listing will elevate the credibility of your product and help consumers feel confident adding your product to their shopping cart.

In addition, Walmart Marketplace values the customer experience. By following these tips to optimize your Walmart Marketplace listing, you can ensure that your listing is strong and will essentially show up higher in search results. 
1. Writing to be Found and Seen
Walmart Marketplace listing optimization involves several key components, one of which is your content. Your product's content includes selecting the correct product category, writing a clear and descriptive title and description, and lastly, defining attributes (which we talk about in more detail below). 
The category field is how products are organized. The more defined your product is, the easier it will be for consumers to search and be connected with it. When selecting your category, you'll want to ensure that this is the most accurate place for your product to live. One reason is that each category is accompanied by a different set of attributes. You want to be able to add that specific information, as it pertains to your product, into the attributes section. This will also work to improve your listings performance and searchability. 
A strong title will make it easier for consumers to identify your product. Don't stuff your title, rather think of how you can keep it concise and still clearly define what your product is. Keep in mind titles should be between 50-75 characters. It's a good idea to include things like the color, brand and model, if applicable. 
Your description section is where you can dive deeper into sharing what your product is and does. You have a little more space here to be descriptive and incorporate more relative keywords into your content.

For Walmart Marketplace listing optimization, you can format your listings to include 3-10 key features and a detailed description paragraph. A minimum 150-word count is advised by Walmart but does vary by product category.
Lastly are attributes. Attributes are values that help organize products. These attributes help ensure your product is shown to customers when they search or browse using the filters on the left-hand navigation panel when shopping on Walmart.com.   
2. Keep Keywords in Mind
Keywords are essential to helping customers find your product when they do a search on Walmart. There are two types of keywords that should be researched and incorporated into the content for Walmart Marketplace listing optimization: short-tail keywords and long-tail keywords. 
Short-tail keywords are broad search phrases like "dog collar." 

Long-tail keywords are more specific search phrases like "blue dog collar with plastic clip."
The reason why we include both types of keywords is to connect the customer's search query to your product. When you are searching online for dog collars you don't want to see search results for women's shoes. However, each type of keyword, short- or long-tail, has specific purposes to help your overall exposure. 
Short-tail keywords are more generalized. Due to being more general, these keywords drum up more results, making them more competitive.

That's why having long-tail keywords incorporated into your listing content is also of value. Long-tail keywords are more specific (calling out color, size, etc.).
Some shoppers type in specific details, or long-tail keywords, like women's blue long-sleeved blouse" in order to get more accurate and specific search results. These keywords are known to be more likely to click and convert due to their specific nature. This can also improve your search ranking.
3. Add Quality Images and Rich Media
It's well-known that the vast majority of people prefer to look at pictures, videos and 360-degree content rather than read a lengthy dissertation describing everything about the product, it's use and packaging. 

Add multiple high-resolution images to your product listing. The recommended size for these images is at least 1,000 x 1,000 pixels. This is the minimum zoomable size.

The background color should be white when showcasing your product. However, it's also good to show lifestyle photos and images that include text or icons to further communicate the main points of interest that the customer may want to know about your product.

In addition to still images, you can create rich media like product videos, how-to videos or 360-degree shots. Adding images and rich media content has been shown to boost conversion rates.
4. Include Your Product's Relevant Attributes
In order to get the most out of your Walmart Marketplace listing optimization techniques, be sure to include all product specifications aka attributes when building out your listing content. This information is relevant to the product you are selling and helps filter results when customers are searching.

Every shoppers searches differently, whether they utilize certain keywords or they search for specifics. For example, one customer may be searching for a laptop, however, they know they want a specific size, brand and amount of storage. They put that information into their search bar. If you did not include your product attributes, you could very well miss this opportunity for a sale. 
5. In-Stock and Fast Shipping is Key
Inventory management has been increasingly difficult, which has made it that much more important. Spend time to really hash out an inventory management strategy and start practicing demand forecasting.

Out of stock products can cause your competition to grab that sale - and you'd rather have it the other way around. Pay close attention to what inventory is stocked, how fast it is selling, and lead times from your manufacturer or supplier to ensure adequate inventory levels for your business and customers.

Now that you have made sure you have inventory to sell, get it out the door and in the hands of your customer fast. Customers have become accustomed to receiving orders in two- to three-days.

According to Walmart, when you offer faster shipping methods you can see up to a 40% lift in sales.

You'll want to make sure that your products have Walmart's fast shipping badge. Not only will this make customers happy, but it has been shown to help with Walmart SEO because it enhances the user experience. Having fast shipping gives your listing another positive quality and potentially pushes it higher in search results. 
Listing Quality Matters
Walmart values your listing quality. They actually developed a score to help sellers improve their listing quality, thus making the consumer shopping experience better. Walmart Marketplace wants to ensure that it's platform is a go-to and recommended destination for shoppers. 
In Walmart's listing optimization guide, they identify five reasons as to why listing quality matters for sellers. 
Gain more visibility in search and browse results

Get more marketing opportunities

Win the Buy Box and sell more

Improve your product conversion rates

Minimize product returns and gain repeat customers
Wrapping Up
Now that you know more about some of the important points to Walmart Marketplace listing optimization, do you feel confident about creating a strong listing? If not, that's why we're here. Fill out our contact form or give us a call, 800.238.1811, and we can schedule a time to discuss your ecommerce strategy further.