September 12th, 2023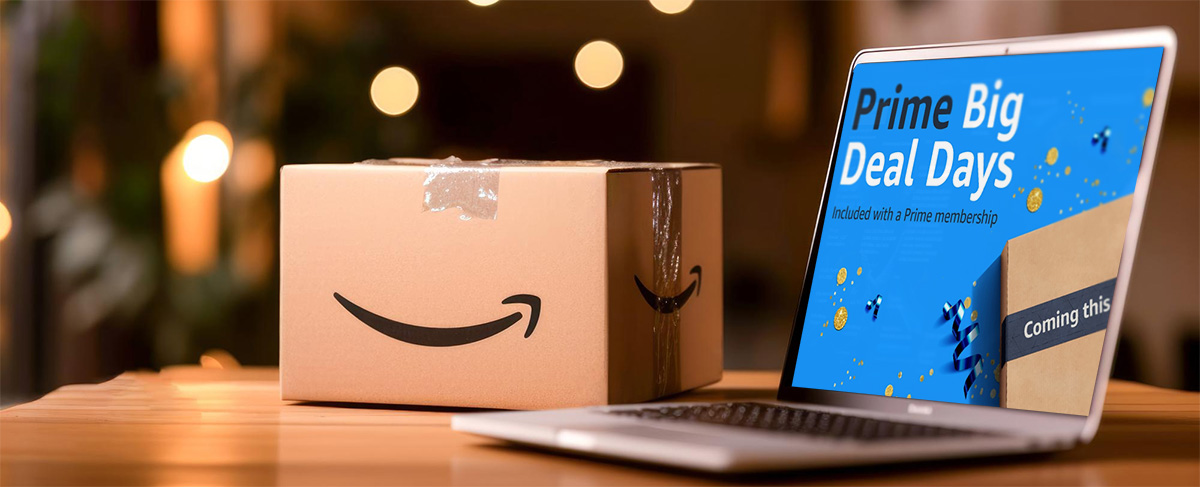 Sell More With Special Deals 
For Prime members, nothing triggers the "Buy Now" response quite like an Amazon shopping event. Amazon continuously finds new ways to appeal to its ever-growing customer base with special deals and steep discounts that attract shoppers in droves.
During the July 2023 Prime Day Amazon saw a massive turnout of approximately 12.7 million shoppers, making this year's event the most successful one yet. Fortunately for sellers, there's a second opportunity to get more revenue during Q4. The fall event, Prime Big Deal Days, gives sellers another chance to recruit new customers and achieve soaring sales is on the horizon once again.
What is Amazon Big Deal Days? 
Amazon's Big Deal Days is an exclusive shopping event for Prime members that will take place in October 2023. While specific dates have not yet been announced, Amazon has revealed that these special deals will be offered in 19 countries including Australia, Austria, Belgium, Brazil, Canada, China, France, Germany, Italy, Japan, Luxembourg, Netherlands, Poland, Portugal, Singapore, Spain, Sweden, the U.S. and the U.K.
For shoppers who missed out on Prime Day in July 2023, Amazon Big Deal Days is a second chance to score savings and snag holiday gifts with deep discounts. Deals will be offered on products across all categories. 
As experts at stirring up shopper interest, Amazon has shoppers eagerly awaiting the dates and details. For sellers, it's time to prepare for their second chance at capitalizing on this Prime Day sequel.
The History of Amazon Big Deal Days 
Amazon Big Deal Days serve as a second chance Prime Day for shoppers and sellers alike. Offering great deals on a wide variety of products, it will be available to new and existing Prime members. This fall event is newer and a great way for sellers to get a jump start on sales during Q4 and shoppers to get deals on their holiday shopping. 
While Big Deal Days is newer, Prime Day has been around a bit longer. Since 2015, small businesses and big brands have reaped the benefits of Prime Day. Originally created to celebrate Amazon's 20th birthday, this yearly event continues to grow, year after year. In July of this year, the two-day event sold a whopping 375 products worldwide, making it the biggest Prime Day and the most successful sales day in Amazon's history.
Prime Day 2022 was also the largest Prime Day event for Amazon's independent sellers. Although home goods and electronics had the most success, small and medium-sized businesses across various categories experienced significant sales growth.
The Benefits of Amazon Big Deal Days 
With a reputation for delivering an outstanding customer experience, Amazon's sales days are one of many ways the platform pleases its clientele. For sellers, these high-traffic events offer an opportunity to boost sales and recruit new customers.
Some of the most significant benefits of Amazon Big Deal Days include:
Leveraging increased traffic

Improving product and brand awareness

Understanding shopper habits and preferences

Clearing stagnant inventory

Attracting new customers
Make the Most of Amazon Big Deal Days 
With an amazing opportunity on the horizon, it is crucial for sellers to start preparing for Amazon Big Deal Days. Much like Prime Day, laying the groundwork for success requires a strategic approach. 
Optimize Amazon product pages
Your Amazon product listings give shoppers the information they need to make an informed purchase. While this fall Prime event may increase traffic, optimizing your product listing can ensure visitors become customers.

What is listing optimization?
To improve organic product rankings and increase sales on Amazon, it is crucial to optimize your product pages. These updates incorporate essential information and relevant keywords into your product title, bullet points, and description, while also updating images and backend keywords in your listing.

What are the benefits of listing optimization?
Increased product visibility

Decreased returns

Higher sales volume

Increased customer satisfaction

Appear higher in search results

More search volume

Improved rankings

Stronger brand identity
Develop an inventory management strategy
To make the most of the increased traffic, it is important to have inventory in stock. By implementing a strategic approach, you can ensure that you are well-prepared.
Review sales history
Reviewing data from previous Prime Day events can give you insight into what to expect on Amazon Deal Days. Use this information as a guide to prepare for the upcoming October Prime Event.
Understand FBA inventory limits
For FBA sellers, it's important to efficiently manage your inventory and carefully review your limits. Sign in to your account and go to Inventory > Inventory Planning > Restock Inventory to determine the amount you can send to the Amazon warehouse.
Call for backup
Working with an Amazon account management team can help you prepare and prevent lost sales. With a comprehensive understanding of Amazon, they anticipate common challenges while lightening your workload.
Drive awareness with PPC advertising campaigns
October will be here before we know it. Leveraging PPC advertising campaigns can drive interested shoppers to your listings and help you make the most of the October Prime event.
Sponsored Product Ads
Increase sales and product awareness by targeting specific keywords.


Sponsored Brand Ads
Featuring your logo alongside three of your products, Sponsored Brand Ads showcase your products and brand.


Sponsored Display Ads
These ads are displayed to shoppers who searched for similar products or visited your product page without completing a purchase.


Sponsored Brand Video Ads
Showcase your products on Amazon's websites, mobile apps, Fire tablet wake screen, and across the web.
Attract shoppers with deals and discounts
On Amazon Big Deal Days, shoppers will be searching for exclusive offers and deep discounts. To increase your chances of success, develop a promotional strategy that sets you apart from the competition.
Lightning Deals
Lightning Deals are short-term promotions where a limited number of discounts are offered on an item for a short period.


Promotions
For best results, these multi-unit or tiered discounts can be used in conjunction with external marketing and advertising campaigns.


Coupons
Coupons can be found in the search results and are great for attracting consumers to your page. There is a seller fee associated with each coupon that is clipped and used.
Amazon Sales Events
In 2022, Amazon introduced two major sales events in the same year for the first time. The July 2022 Prime Day was followed by the Prime Early Access Sale in October 2022. Both events were extremely popular, surpassing the success of Prime Day 2021.
While the details of Amazon Big Deal Days are yet to be revealed, other Amazon sales events provide sellers with insight into what to expect. Considering the high sales of last year's Prime Early Access Sale and the annual success of Q4, we can expect that this October Prime event will draw a significant number of shoppers.
Black Friday and Cyber Monday are also known for attracting Amazon shoppers searching for exclusive deals on essential items and holiday gifts. These events usually set the tone for the upcoming month, providing sellers with insights into their overall Q4 performance.
With Prime Day 2023 happening in July, only the early bird holiday shoppers took full advantage. Around 30% of shoppers start their holiday shopping in October, making this the ideal time to entice shoppers with exclusive deals and discounts.
Are you ready to take full advantage of Amazon Big Deal Days? With the support of our Amazon Account Management Team, you can lighten your workload and make this year your best yet. From PPC management to listing optimization and creative content creation, we are equipped with all the tools you need to succeed. Contact us today to learn more.