June 10th, 2022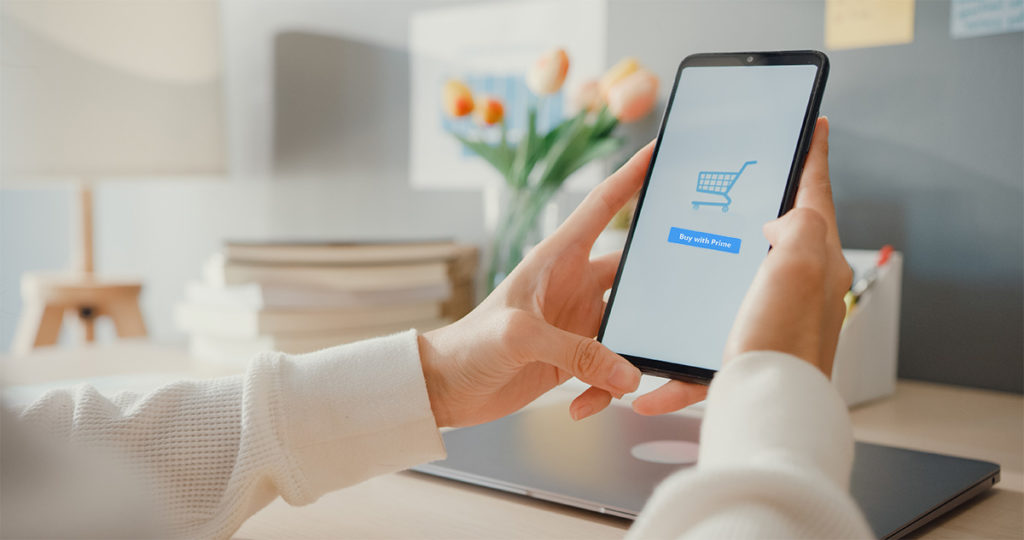 Amazon Prime has been a major game changer for buyers and sellers alike. Now, their very on-brand tactic of never ceasing to amaze us has been taken one step further. 
Amazon is gearing up to expand Amazon Prime shopping benefits beyond Amazon.com by bringing its fast and free delivery, free returns, and notoriously convenient checkout experience directly to merchants' online stores. 
Throughout 2022, Amazon will be rolling out their new feature, Buy with Prime. Buyers will be able to take advantage of all the benefits of Prime while shopping eligible products in merchants' online stores without ever tapping on that illustrious smile icon. Is this opportunity a worthy venture for your business? Let's touch on the basics before we dive a little deeper.
Why should Amazon sellers shoot for a Prime badge?
The facts are pretty undeniable. Brands with the Prime badge on their listings can see up to a 200% increase in sales versus brands without this designation. If you're selling on Amazon, aiming to make your products eligible for Amazon Prime is a no-brainer. Optimize your listings to gain a noteworthy Amazon presence, play by the rules, and success is surely on the horizon.
How do you get your products listed on Amazon Prime?
One of the greatest benefits about being an Amazon Prime seller is that Amazon's success can set the stage for your own. Never forget, customers come first, but sellers aren't far behind. How do you become a Prime seller? Let us count the ways.
1. Seller Fulfilled Prime
Seller Fulfilled Prime is a program that allows you to deliver directly to Prime customers from your own warehouse. To be eligible for the Prime badge, you commit to fulfilling orders with a Two-Day Delivery at no additional charge for Prime customers. Amazon even helps you select shipping solutions that will allow you to honor your commitments and live up to the Two-Day Prime standard.
To be eligible, sellers must have fulfilled a minimum of 30 premium shipping orders in the previous 30 calendar days; provide a tracking ID for 94% or more orders; have an on-time delivery rate of 96% or higher, and a cancellation rate of under 1%. This may be a tall order, but if your promises are kept, you'll be raking in new customers in droves.
2. FBA (Fulfillment by Amazon)
Fulfillment by Amazon (FBA) is a service that Amazon offers to help business owners fulfill orders and increase sales. Businesses ship their products to Amazon fulfillment centers that are specifically designed for FBA services. At these FBA locations, Amazon handles all the heavy-lifting including receiving, picking, packing, and shipping products in a timely manner. Amazon also handles all post-sales issues such as returns, refunds, package tracking, and ongoing customer support.
FBA is a draw for sellers due to its simplified processes and potentially reduced shipping and overhead costs. It also allows sellers to expand to a global market without the hassles and fees that are normally associated. With FBA fulfillment centers set up all over the world, the reward is much more likely to outweigh the risk. 
What are the benefits of being an Amazon Prime seller?
Becoming a Prime seller certainly has its perks. The Amazon Prime badge is more than just a symbol to over 200 million paid members - for many, it signifies convenience, customer satisfaction, and reliability. For sellers, it can carry its weight in gold. Here are a few of the major advantages:
Fast delivery options

: Unlimited access to 1-day and 2-day order delivery can help attract more customers and keep them coming back.

Increased visibility

: Amazon buyers often filter and search for Prime products, giving Prime sellers an advantage that simply can't be matched.

Early access

: During sales, Amazon Prime sellers have the opportunity to reach out to customers before other sellers and snag that sale in record time. As they say, first-come, first-served!

Increased sales

: Typically, more traffic = higher sales. Prime products draw in more potential customers, increasing your chances of making a sale up to three times higher than non-Prime sellers.

Prime Day

: This

event

draws in more and more customers every year, and they are all ready and willing to buy!
Learn more here.
What is Buy With Prime?
Buy with Prime is Amazon's innovative new way to keep customers more satisfied than ever by simplifying and expanding their shopping options. It will initially be offered to FBA sellers by invitation only throughout 2022. Once the offer is extended, merchants can choose to add Buy with Prime to their existing direct-to-consumer online stores. Multi-Channel Fulfillment fees will apply. 
With Buy with Prime, shoppers get all the features they covet on Prime purchases directly from your site. Buyers and sellers alike will have access to 24/7 support from Amazon to ensure every transaction is as seamless as possible. Like the old saying goes, "if you can't beat 'em, join 'em." In today's world, it is more lucrative than ever for businesses of all sizes to get on board with the behemoth that is Amazon. 
What are the benefits for shoppers?
Amazon shoppers love the assurances that come along with Prime purchases. From toothpaste to self-help books and last minute birthday gifts, buyers know their satisfaction is guaranteed from start to finish. Even with brands they are not familiar with, once they see that Prime badge, it only takes a matter of seconds to convert many shoppers into customers. 
Buy with Prime takes the convenience of shopping on Amazon to a whole new level by essentially vetting direct-to-consumer sites. For buyers, some of the benefits of Buy with Prime include:
Reliable customer service and support

Fast and free shipping options

Free returns on direct-to-consumer sites

Additional checkout options

A wider selection of products and brands
What are the benefits for sellers?
Buy with Prime sellers will be able to display the Prime logo and the speedy delivery promise that goes along with it on their existing site. With the promise of fast delivery, reliable service, and free returns, this is likely to add credibility to your brand and convert Amazon shoppers. 
Amazon's customer loyalty is nothing short of astounding. With Amazon's backing, many sellers will likely be able to draw in a wide range of new customers, promote new products to a larger audience, and keep buyers coming back for more. For sellers, some of the benefits of Buy with Prime include:
Easy setup

24/7 support

Building direct consumer relationships

Building the trust of potential buyers

Simplifying the fulfillment process

No requirement to sell on Amazon

Additional checkout options and conveniences
While Buy with Prime is currently invite-only, sellers that are interested in joining can sign up on Amazon's interest list. As they say, when opportunity knocks, open the door!
If you're looking to expand your outreach, develop a plan to boost your sales, and get your company noticed, our team of Amazon selling experts are here to lend a hand. We understand the intricacies of Amazon and can help you realize your goals. Reach out to our eCommerce experts to set up a free consultation today. From there you will receive an email to schedule an appointment time that works for you.