July 15th, 2021
---
Amazon Marketing 2021
Amazon Marketing in 2021 is a key component of your business strategy. The eCommerce leader is a magnet for consumers but also for more business-minded people, like yourself.
How are you going to stand out?
---
What Are Shoppers Looking For?
Knowing your audience helps you more effectively identify where you should place your marketing and advertising efforts.
79.8% of internet users in the United States want fast, free shipping. That being said, are you taking advantage of selling via FBA (Fulfillment by Amazon) or SFP (Seller Fulfilled Prime) to reap the benefits of the Prime badge?
Additionally, shoppers are also looking for a broad selection of products to choose from. 68.9% of consumers state they want a broad selection. This is one reason why conducting competition research is important.
For a business owner, if you are selling what everyone else is selling it's going to be difficult and expensive for you to get to page one of search results. Make sure your product is unique enough to stand out, but also is wanted by consumers.
---
How Else Are Consumers Using Amazon?
Hint: it's not just for making purchases.
Consumers are not only using Amazon to make purchases but they rely on it to check pricing, compare and discover new products, and do research before they buy. It has really become a robust website and household name.
We can't stress the importance of making sure your product pages are fully optimized, so you can compete with searches where your competition is showing up. Plus, putting some effort into your advertising and marketing plan to ensure that your brand is standing out as a strong option for the consumer to remember.
No matter what the consumer is doing, researching, or ready to buy, you need to be where they are looking.
---
Avoid These Toxic Thoughts
Don't let these toxic ideas ruin your hard work and Amazon marketing in 2021.

"Great, we're all set up, now let's just wait."

It is great that you have patience, we respect that. However, our goal and we're assuming your goal is to grow your business and sell more.

In the business world you need to be more aggressive. The "set it and forget it" approach is not going to get you far. Amazon is a complex eCommerce platform and there is a lot of competition that you need to beat out. Adopting a proactive strategy will help you get ahead.

"I don't need to advertise."

We can strongly agree to disagree here. Running Amazon PPC campaigns will help strengthen your brand recognition and will do it faster than waiting for your organic ranking to grow.

Time is money. Waiting for sales to come to you is time wasted. Instead, you should be actively sending consumers directly to your listing with PPC advertising. Don't let the competition get the sale that could have been yours.

"My images are good enough."

Don't settle for mediocre. The images and videos on your listing need to be high-quality, informative, and quite frankly, they need to steal the show from your competition.

Shopping online has one caveat that we can use graphics to remedy - consumers can't physically see or touch your product.

They can't inspect it or debate about the quality, size, color, etc. That's why your images and videos are so important. They help sell your product while building your brand's reputation.

Check out our Guide to Taking Better Amazon Product Images to learn more about this important element for your listings.
---
Amazon Marketing 2021:
Create for the Customer Experience
Amazon's philosophy revolves around making the customer experience the best. That is the same mindset you should have for your business model and Amazon marketing strategy.
1. Amplify Your Product Listing
Don't put the cart before the horse. Your listing needs to be a well-branded, show-stopper before anything else.
What we mean is that you need to make sure that you are quick to answer common questions about the product in your bullet points and description. Your photos (both product and lifestyle), infographics, and videos are helping to educate and further build confidence for the consumer. When creating listing content, be mindful of what your consumer is looking for. Answer frequent queries, list specifications, and include information about uses for the product in question.
Writing copy and backing it with keywords is an essential part of running a successful eCommerce business. Follow our Guide to Amazon Product Listing Optimization to get tips and walk through the steps to make your listing great.
---
2. Direct Shoppers to Your Product with PPC Advertising
Now that your cart (so to speak) is loaded with a well-executed and branded listing, you're ready to get more eyes on your product.
Advertising gives you the opportunity to share your product with a customer who is already searching for something related based on the search query they typed in. How well you built out your listing, and backed it with relevant keywords will help the buyer find your listing and will help your advertising appeal to the correct audience.
Pay Per Click advertising or PPC gives businesses selling online the opportunity to advertise and only pay for the actual clicks their ads receive. Amazon has three formats for PPC advertising. Here is a helpful reference to learn more about the types of advertising available and how they can benefit your business.
---
3. Engage with Coupons and Promotions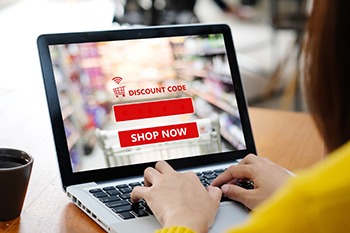 It's no secret, people love discounts and special offers. Some people need an extra reason to buy, while others fear missing out. Either way, coupons and promotions can help encourage sales by triggering the "buy now" response.
The best part about selling on Amazon is that they offer a wide range of marketing tools for you to use to better your business and improve your selling success.
---
4. Educate and Promote with Social Media
Use social media to your advantage. Social media channels are a great asset to businesses when used consistently to share content, educate, and engage your audience.
Additionally, advertising on social media, like with Facebook ads, will provide you with valuable metrics. Who doesn't want to see where their money is being spent, and how many impressions and clicks they're getting?
These metrics are useful when deciding on a budget to allocate to your marketing and advertising efforts. Additionally, you can tailor your advertising efforts and budget to your specific niche.
Keep in mind that you can link your ads and posts on social media back to your Amazon Brand Store or product pages. This is a great tool to use to drive more traffic to your listings from outside of Amazon.
---
5. Harness Those Reviews
Reviews are powerful and you need them. Research shows that over 80% of consumers say they value online reviews as much as they do a recommendation from a friend.
There are a few options to help you secure reviews and seller ratings. It's not easy getting reviews, which is another reason why they are so valuable. Amazon has a few programs in place:
Amazon Vine Program - Available to sellers who have Amazon brand-registered products and fewer than 30 reviews
Feedback Requests - Email those customers who left a positive seller rating and request a product review
Customer Service Requests - Asking for a review after you've provided excellent customer service by answering a product question, providing technical support, facilitating a return, or satisfying an unhappy customer
It's always important to follow Amazon's guidelines to avoid prohibited words and phrasing when seeking out reviews. Learn more about getting reviews by an article our expert Amazon consultants wrote: How to Get Amazon Reviews - The Right Way.
---
Think Like a Customer
Always put yourself in your customers shoes. Remember, you know a lot more about your product. It's your job to educate and enlighten the customer. If you feel that you are too close to the project, it may be a good idea to enlist the help of an outside team, like
Awesome Dynamic
, to assist with your Amazon marketing in 2021.
If you need help determining if a team of Amazon Consultants is right for you, take a look at this article:
How to Find a Top Amazon Consultant Who's Worth the Investment
.
---
Are you ready to take your product listing and Amazon marketing to the next level?
We're here to help you navigate the vast number of opportunities that are available, and determine which will work best for your business needs. Let's get started with a quick, but informative, 30-minute call.
Simply fill out this form and we'll send you more information to get a time scheduled.