June 14th, 2021
Advice From an Amazon Store Consultant
An Amazon Brand Store gives brand owners the opportunity to replicate the in-store experience within an online marketplace. When shoppers are browsing products online the only sense they can use is their sight. By creating an Amazon Brand Store, either on y our own or with the help of an Amazon Store consultant, you are establishing a centralized hub that represents your brand (look and feel) as well as can easily share additional products in which you sell.
---
What is an Amazon Brand Store?
It is a multi-page website that is hosted on Amazon for your brand. This solution allows brand owners selling on Seller Central to set up their own store. There is no coding experience needed. An Amazon store consultant or someone from your team can use the drag and drop tools within the brand store builder to add video, text and images to further promote your products on Amazon.
---
What is the Cost to Create an Amazon Brand Store?
The good news is that creating an Amazon Brand Store takes time, not money. Amazon does not charge for you to create a Store. However, if you need to enlist the help of an Amazon Store consultant, there will be fees involved. The benefit to enlisting help is that they have experience in building Amazon Brand Stores so they will set up your pages correctly and will follow your branding.
Why Create an Amazon Brand Store?
As with any marketing strategy the goal is to build upon the shopping experience and encourage more engagement. An Amazon Store helps you showcase your brand with high-quality media, such as a sleek gallery showcasing your best selling products, or a section that tells the story of your brand in your own words. The benefits of creating an Amazon Store include:
The ability to drive traffic to your brand store both internally and externally. You can create a custom URL that makes it simple to share your store in emails and on social media. 
Build brand loyalty by creating a space that represents what your brand stands for, includes more information about your brand and products for the buyer to make an educated decision, and introduces shoppers to more products that you have available. 
Makes it seamless to integrate product promotions. Within your Amazon Store there is built-in social sharing and promotional extensions making it easier to build awareness and drive shoppers to your Storefront.
Gain valuable metrics through the Amazon Store Manager regarding traffic to your Storefront. This data can be used to further optimize your PPC (Pay Per Click) advertising efforts.
5 Steps to Create an Amazon Brand Store

Create Your Amazon Store's Homepage

Log into your Seller Central Account
Click "Stores" from the main navigation bar at the top of your screen
Select "Create Store"
Choose your brand's name from the pop-up box
Click "Create Store" 

Next, you will need to select the theme you want to use. There are four themes available each highlighting something different. It's best to think about how you intend to use this store for your business and pick a theme that can build up your customers' experience. 

Marquee: More room available to display more details about your product, such as testimonials and product descriptions
Product highlight: Allows you to showcase a product front and center
Product grid: Gives you space to show a large number of related products in your catalog
Blank: Build your store from scratch with drag and drop options. Remember, no coding is required.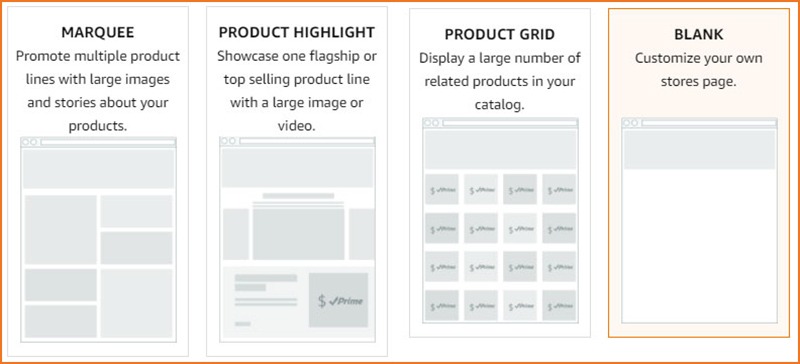 Build Out Your Store Pages

This is where you can organize your content into pages based on your catalog categories, best sellers, additional brand or product information (i.e. recipes if you sell food items or decorating tips if you sell home décor) and more. 

First you will go to 'Store Settings'. Then click on 'Add Page'. You can drag and drop the pages within the 'Page Navigator' by placing your cursor over the dots to the left side of the page name, then drag and drop where you want your page to go. If the pages are indented, that means they are sub pages.

Arrange and Add Content to Your Pages

There are multiple areas to update when you are creating an Amazon Brand Store. Amazon provides sellers with a drag and drop design approach where you can easily add and move tiles around on your page. These tiles automatically interact with your product listings making it easy to share products.

The content tiles that you can edit are:

Hero Image (large banner image at the top of your page)
Navigation Bar and Logo
Product grids (many times these are best used to highlight best selling products)
Galleries
Video
Product, text or image tiles



Now that you have built out your pages you can add individual products to specific pages and tiles within your store. There are two ways to add products. 

Automatically: Since your storefront is connected with your brand Amazon will automatically search for your products to add to your page.
Manually: You can conduct an ASIN search to individually select the products you want to add to certain tiles and pages.
Review and Publish

The last thing to do is review your Amazon Store. Before you hit publish be sure to carefully read over your text and look for any grammar or spelling errors. Also, make sure what you are presenting to the public represents your branding correctly. The goal here is to build a loyal following and if your Store looks completely different than your packaging and website, customers may get confused.

When you think everything is good to go hit publish. Your Amazon Store can be live in as little as 24 hours, or during peak seasons it can take up to two weeks for Amazon to approve your Brand Store. If any content is in violation of Amazon's policies, the Amazon team will reject your Store submission, and will let you know which section of your Store needs to be revised and resubmitted. Once you have corrected the content in question, you can resubmit the Store to Amazon's team for approval. Once the Store has been approved, it will be published immediately and your customers will be able to view it.
---
Use the Metrics to Enhance Your PPC Advertising
Now that your Amazon Storefront is live you can start collecting data. These insights are an added bonus when you create an Amazon Storefront and include metrics on:
Daily Visitors
Views
Sales
Units Sold
Organic Traffic
Traffic from Sponsored Brand advertising 
And More
Having all of this data at your fingertips helps you or your Amazon store consultant build a stronger presence on Amazon and focus on a more targeted approach when it comes to your advertising campaign.
---
Are You Ready to Take Your Amazon Sales a Step Further?
It's easy to see that if you create an Amazon Storefront you are giving customers more details about your products to help drive them to purchase and to share other products from your catalog. The clean and easy-to-navigate approach of a Storefront puts shoppers at ease as they browse your information. If you are ready to set up an Amazon Storefront but think you'd like some help, let's chat.