June 5th, 2021
You've heard the buzz about starting your own business and selling online. It's intriguing to be your own boss. However, once you are ready to dive in you find that there are a lot of decisions to make. One of the most critical is choosing an online retail space that is best for selling your merchandise. As an Amazon retail consultant we're going to compare two of the largest platforms, Amazon and Shopify, as well as identify their differences so you can make the best decision for your business.
---
What is the Difference Between Selling on
Amazon vs. Shopify?
The main difference is that Amazon is an online marketplace while Shopify is a specialized eCommerce platform. So, what exactly does that mean?
Selling on Amazon means you are riding the coattails of a well-known marketplace. In 2018, more than 197 million people world-wide visit Amazon.com per month. Today Amazon.com easily tops over 200 million visitors a month. With effective product listing optimization and PPC advertising, your product could be at the top of their list and in their cart in no time.
Shopify has its own set of unique advantages and challenges, but it is also a different selling opportunity. When utilizing Shopify as your 
eCommerce platform, it's renting a business space. You have your own website or location, and people have to know your brand to find you. There is more flexibility to create a unique site, but it will take more time to grow as you build a regular customer base.
---
What is an Amazon Consultant (or Shopify Consultant)?
An Amazon Retail Consultant or any consultant you hire should be your fellow teammate - as long as you've vetted them and made sure they have the experience and capabilities to handle your business needs.
Not all consultants are equal, so it's imperative for your business to find one who will be able to handle your Amazon marketplace channel (or Shopify store). You'll want to ensure that they have experience and can create a custom strategy that fits your needs and budget. We highlighted 10 items you should have on your question list when you interview a consultant. This list is more targeted to selling on Amazon, however many of the points will be relevant for Shopify sellers. Here's a rundown of them but you can get more details in our article, How to Find a Top Amazon Consultant Who's Worth the Investment.
Provide exceptional customer service
Understand different selling platforms on Amazon
Follow Amazon's Rules
Know Amazon SEO
Develop product listings that convert
Understand the importance of reviews
Get your product in the Buy Box
Establish and manage your Amazon advertising
Know your shipping options, FBM vs. FBA
Have a proven track record
---
Keep all of your information organized when interviewing potential Amazon seller consultants. Download this free checklist that discusses all the services and skills listed above. Keep this on hand and jot down notes as you ask about these items when speaking with potential Amazon retail consultants. Our goal is to make sure you feel comfortable and are informed. You need to know what to expect so you don't waste your hard earned money.
---
How Can a Consultant Benefit My Online Retail Business?
A consulting team is prepared to handle all aspects of your account. They can manage the day-to-day tasks within your account (free up your time) and also can tackle unforeseen challenges that pop up quickly, which could otherwise compromise your business and sales.
Advertising is constantly changing. It attributes to sales growth and success but you have to keep your eye on your campaigns, and make adjustments to ensure that you are hitting your target market.
Amazon retail consultants already know everything there is to know about selling on Amazon. There is no lag time or study time needed. You want to get your products optimized and top ranking fast. An experienced consultant is efficient in making changes to your account and proactive in offering advice that can benefit your business.
---
How Should I Sell Online? Questions to Ask Yourself
1. Is my brand well-known? Do I have a following?
If the answer is yes, then you have more choices in our opinion. Your business has potential on either Shopify or Amazon, or both.
Either option will require marketing and advertising. The difference between the two is that you'll be on your own, so to speak, for marketing your Shopify store. You'll want to learn more about driving traffic to your store from social media, building your email list, as well as other more traditional marketing efforts.
Within Amazon, you have PPC advertising as an option to get more eyes on your listing. You also have opportunities for more exposure by optimizing your product listings to ensure that your products are being found in search results. In addition, Amazon sellers can also benefit from driving traffic from social media, utilizing email and other traditional marketing avenues. 
If you are just starting out or your business name isn't a household name yet, then Amazon will most likely provide more of a benefit to your business. Amazon has a following and customers that trust their brand thus making it easier for new sellers to get started (even established sellers prefer Amazon because customers trust Amazon). They also have built in SEO that helps customers searching for particular items get connected with those items in their search results. Your challenge is to get your products optimized and have a good ranking on Amazon in order to stand out from the crowd.
---
2. How will I ship my products?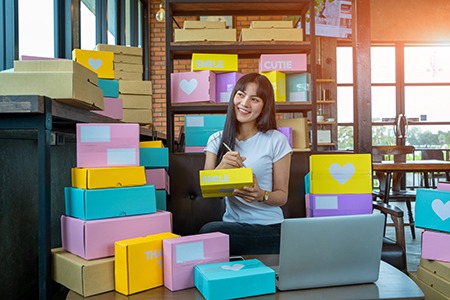 Logistics is an important part of the online selling process. Customers today have become accustomed to having the product in their hands fast, and in most cases with free shipping (thanks Amazon prime).
Within Shopify you are responsible for shipping everything. You print, pack and are in charge of getting packages to the carrier. As for rates, they do offer a built-in shipping calculator that helps figure out rates. Shipping yourself does take longer. On average Shopify businesses advertise 7-10 days for delivery.
Amazon offers two main shipping options, FBM (Fulfilment by Merchant) and FBA (Fulfilment by Amazon). FBM is similar to Shopify. You do it yourself. Amazon does not have a built in calculator, so you would have to partner with a carrier, create an account and calculate your shipping fees and delivery times. FBA allows sellers to pay a fee to have Amazon store their products, then when a customer orders they will pick, pack and ship. Utilizing FBA also awards the seller with the coveted Amazon Prime badge and faster shipping (in most cases 2-day shipping).
---
3. How much customization do I want for my online store?
Branding your products and business is very important. You want customers to remember you.
Shopify allows you to choose a theme which provides you with a basic look and feel for your online store. From there you can customize the theme to make it reflect your brand. There are multiple tutorials available online showing how to customize your site. You'll most likely need some web knowledge or layout experience to navigate customization on your own.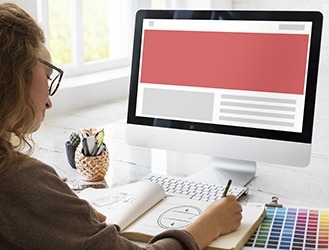 Amazon has a few options as well for businesses to brand their listings while utilizing the marketplace as their selling platform. Adding A+ Content to product listings is one way to add more of your brand identity and also improve conversions. A+ Content will replace the description with a larger area that allows you to use modules to customize the listing and share more about the product with added space for pictures, different layouts and text block options.
Some sellers also qualify for creating a Brand Store. This is similar to your own website with a unique URL hosted within Amazon. You can break up your information into different pages, use modules to create semi-custom layouts to share images and information in a visually appealing way.
---
Now that you have more facts about each eCommerce platform, hopefully you can make a decision on which is best for your business needs. If you'd like to dive further and learn more about selling on Amazon, schedule a free consultation with one of our Amazon retail consultants today!