Amazon A+ Content
Appeal to Customers with Enhanced Branded Content
A+ Content for Amazon Drives Conversions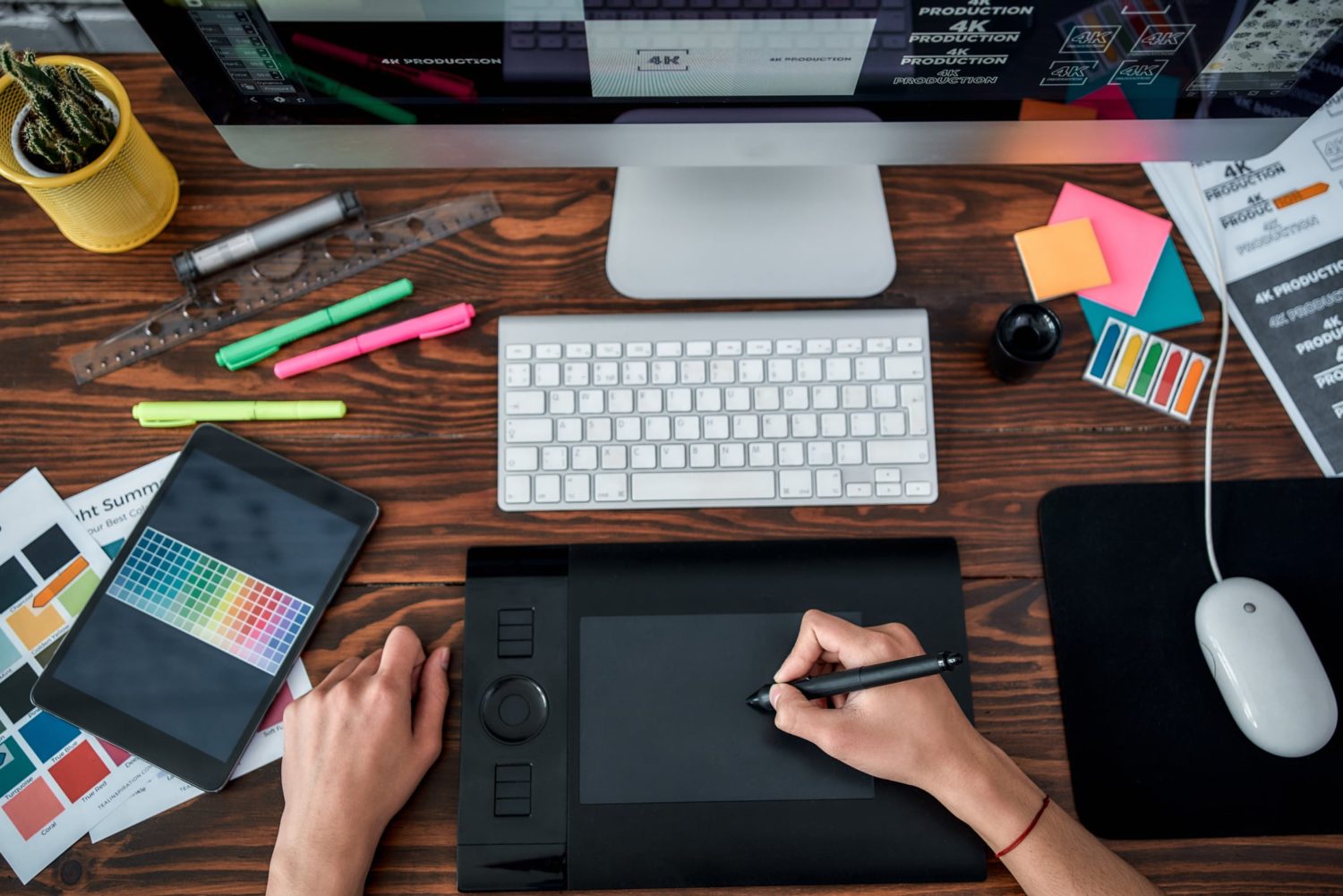 Once called "enhanced brand content," A+ Content refers to a graphically appealing section that is added to the seller's Amazon listing. A+ Content replaces the simple and often dull product description that appears on the product listing page. Compelling, eye-catching and detailed Amazon A+ Content improves the user experience and drives conversions.
Sellers enrolled in the Brand Registry program may add A+ Content. If you have yet to upgrade your Amazon products to A+ Content, now is the time to do it. Why? Because Amazon enhanced content offers merchants a valuable competitive advantage over other sellers and helps trigger the "buy now" response in shoppers. In fact, A+ Content is so effective, Amazon estimates that it can help boost sales by up to 10%!
Premium A+ Content offers an even wider selection of modules, including interactive options, to further enhance your product detail page. These added features and information help to build a more appealing and educational shopping experience online. 
Another feature available to brand sellers is adding your own Brand Story. The Brand Story feature will be added just above your A+ Content. The scrollable carousel gives sellers space to share more about the brand's values, build a connection and share their product catalog. 
A+ Content Infographic
What is Amazon A+ Content? In a nutshell, it's a better way to share more information about your brand and product catalog. It's eye-catching and informative. It works hard to improve the shopper experience and when the experience is better, so are the sales. Take a look inside to better understand A+ Content and the value it adds to your business.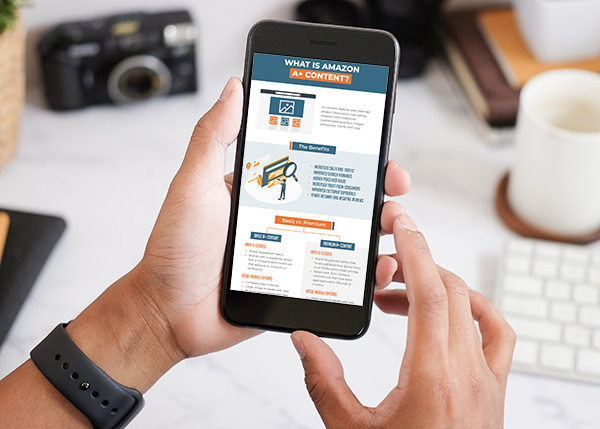 Beyond the Traditional Dull Product Description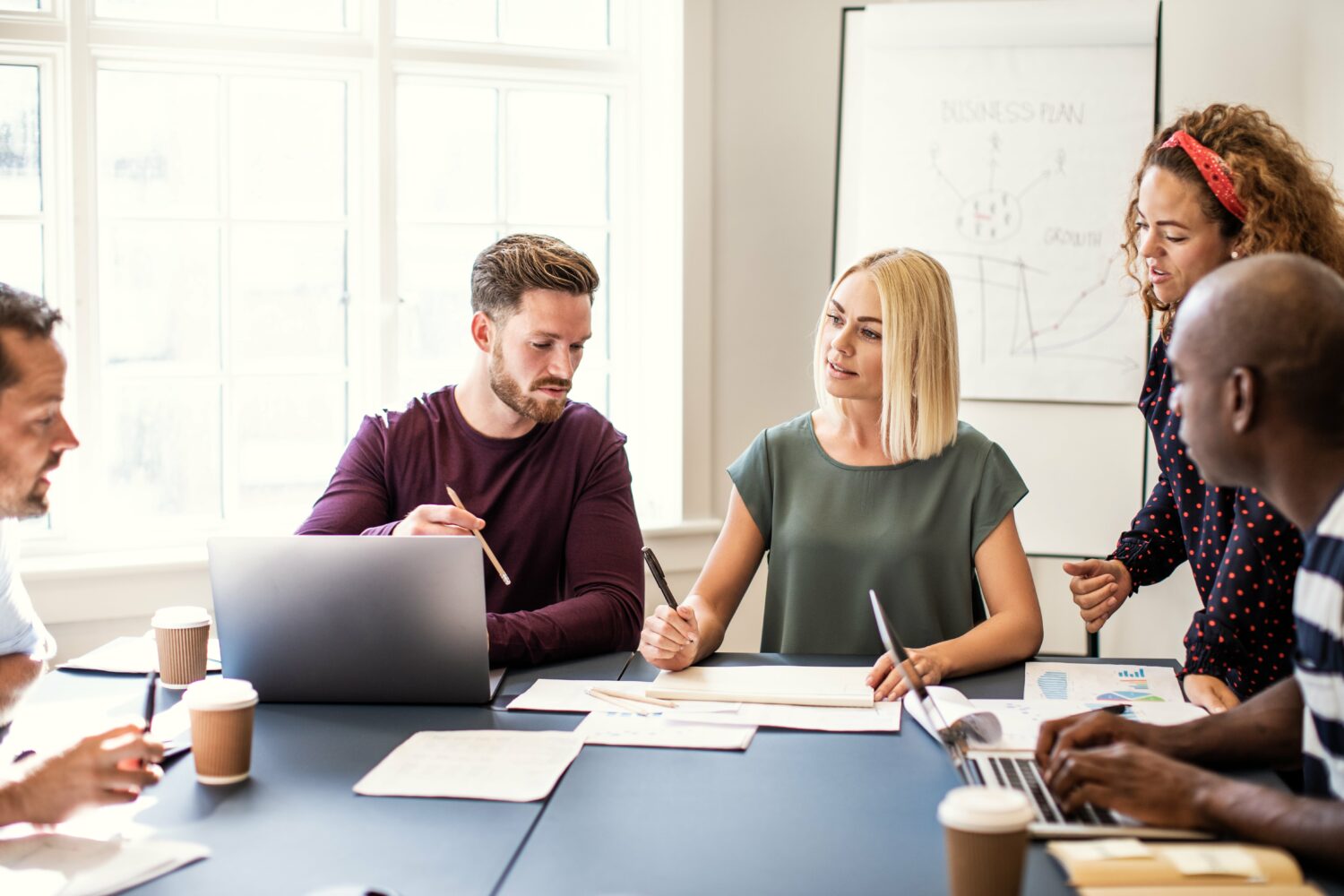 The standard Amazon product description contains lots of text and no imagery, and provides little to no visual interest. A seller can manually input HTML code to add simple formatting like bolding, line breaks and bullet points, but that runs the risk of violating Amazon's HTML restrictions and rendering the content invalid.
Adhering to Amazon's approved use of HTML, even with well-written, engaging and useful information about your product, results in content that looks more like a college term paper than an eye-catching, compelling sales pitch. 
What entices shoppers to stop? What slows their scrolling long enough to read the description in your Amazon listing instead of just glancing over it and moving on to the next product? A+ Content, that's what!
Awesome Dynamic Offers A+ Content Content Creation Services
During your first, free consultation, our experts will explain our Amazon account management services and help you determine which options are right for your brand and product line: Amazon A+ Content, Premium A+ Content and Brand Story. Once the best Amazon content services are determined, we then utilize Amazon's modules to break up text heavy descriptions and create an easy-to-digest product listing page.
Copywriting. Our copywriting services include engaging product titles, detailed product features and A+ product descriptions.
Design. Our Amazon management agency crafts appealing A+ Content, Premium A+ Content and Brand Story content to attract shoppers to your business.
Photo Editing. Are your images low-res or poor quality? We use image processing to highlight details while meeting Amazon's specs.
Marketplace. Once your Amazon A+ Content creation is complete, we list your products on Amazon's marketplace and handle ongoing maintenance.
Optimization. Awesome Dynamic's Amazon A+ Content services incorporate Amazon best practices, our unique skill set, and years of experience to optimize your product descriptions and engage buyers. 
Amazon A+ Page Improves Your Description Section
Amazon offers A+ Content to sellers utilizing their Seller Central and Vendor Central platforms, allowing them to add more appealing, in-depth information to a product listings description.
With our Amazon A+ Content services, our creative team will fine tune and customize your A+ Content with added imagery, selecting from a wide range of formatting options and adding content features that offer a more eye-appealing way for shoppers to consumer your content. This unique content approach converts higher than other content tools and helps turn more shoppers into buyers by:
Grabbing Shoppers' Attention
Amazon A+ Content, Premium A+ Content and Brand Stories stop shoppers in their tracks. Shoppers are so used to seeing product listings filled with long blocks of text that the visually appealing, high quality content features grab their attention. The large images and uniquely formatted copy have the powerful shock value and stopping power that every seller desires.
Showcasing Products
A primary benefit of A+ Content is its ability to display large, eye-catching images. This presents a great opportunity to show off every feature and benefit of your product. Shoppers get a detailed look at your product before they make a purchase, allowing them to hit that "buy" button with confidence.
Making Skimming for Information Easy
The last thing consumers want to do is search through lines and lines of text for the information they need. Amazon A+ Content eliminates this problem by making product information easier to digest. Eliminating big, bulky text blocks allows sellers to break up their content and helps shoppers quickly and easily locate the information they need.
Using Proven Marketing Tactics
Amazon A+ pages resemble traditional brochures and marketing collateral is not a coincidence. A+ Content permits sellers to explore new formats, color schemes and added imagery, beyond the standard textual confines. This helps to further build the brand's reputation and increase conversions. The modules included within Amazon's A+ Content replicate tried-and-true tactics that marketers have used for centuries.
Content Management That Gives Your Brand the Benefits
The advantages of adding Amazon A+ Content, Premium A+ Content and a Brand Story to your product listings are undeniable. After working with our content creation team to enhance product descriptions, Amazon sellers often experience the following benefits: 
Increased sales
Increased traffic
Increased conversions
Improved search rankings
Communicated value
Increased trust from consumers
Improved customer experience
Improved customer satisfaction
Reduced returns
A decline in the number of product returns is one of the primary benefits sellers realize after switching to A+ Content. By conveying more information about the product to consumers prior to purchase, sellers decrease the likelihood of buyer's remorse and often see a boost in positive product reviews.
Ready to Get Started with Awesome A+ Content?
Every day, more and more sellers are discovering the benefits of Amazon enhanced content. We recommend getting a jump on your competitors and taking advantage of this valuable tool as soon as possible. Doing so gives you time to optimize your A+ Content before your competition optimizes theirs.  
Our Amazon A+ Content specialists create eye-catching, easy-to-read A+ Content for your product listings. They review your product carefully to gather and convey, through words and images, nuanced product detail and a sense of what touching, feeling and holding your product would be.
Our goal is to engage and resonate with readers, sparking their imagination with ideas for how the product will improve their lives. Enhanced images, comparison charts and compelling text help your content better connect with buyers and elicit a feel for how the product will work for them.
Working with professional Amazon consultants to optimize your product listings can give you the edge you need to boost visibility and sales. Creating cutting-edge content and utilizing all the available Amazon listing tools can be challenging, but our experts work with you to find the best approach for your brand.
If you have been searching for ways to separate yourself from the pack and stand out from the crowd, an Amazon A+ page is the perfect way to do it. Learn more about our Amazon account management services by signing up for a free consultation and start converting more shoppers into buyers.